Ideally, dog owners should walk their dogs at least twice a day. This is not only important for potty breaks, but for better physical and mental health as well.
However, we understand that sometimes taking your dog out is not an option.
Whether you prefer to use them on your balcony, porch or even inside the house, potty pads are perfect for those times when your dog can't go outside,
Real grass pads are especially interesting as they're usually less confusing for dogs and provide a gradual transition from a designated area indoors to the grass outdoors.
In this post, I will take a look at DoggieLawn vs Fresh Patch and decide which one is my favorite. Then, I'll discuss the benefits of real grass pads and compare them to their artificial counterparts.
DoggieLawn vs Fresh Patch: What's the Difference?
DoggieLawn Disposable Dog Potty Review
BEST PICK
The DoggieLawn grass pad is a great solution for apartments. It's made from real hydroponic grass, which means that it's much the same as normal grass, minus the dirt, bugs and worms.
This grass pad isn't only designed to attract dogs, but it also absorbs liquids and neutralizes odors as you'd expect from an everyday lawn.
Plus. it's good for smaller pets, such as kittens, bunny rabbits and even guinea pigs!
While urine is quickly whisked away and absorbed, one thing I should mention is that you still have to pick up solid waste just like you do outside.
You can use a plastic bag or a scoop, but be sure to remove it quickly as your pet may step on in.
Other than that, training your dog to eliminate on the pad is a simple task (just follow the leaflet). If you do find that you need further guidance, you can contact DoggieLawn for a free potty training consultant.
DoggieLawn Size
The standard pad measures 24″ x 16'', which is a generous size for its price point. It is, however, best to use for dogs up to 15 lbs.
There's a medium pad as well, and if you have several pets or a larger breed of dog, you can either go with the large or XL pad.
A cardboard box will be included when you purchase from Amazon. The cardboard is completely disposable and has an inner waxed bottom, so you don't have to worry about it spilling or leaving a mess.
There's also an option to purchase directly from DoggieLawn, but you may want to consider getting one of their reusable trays to protect your floors.
Since a monthly subscription lowers the price a little bit anyway, it's a no brainer!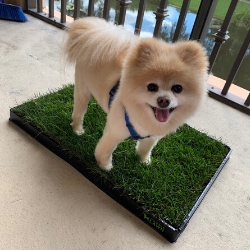 Be aware that some dogs may bite the cardboard or tray out of boredom, which is what holds the grass in place, so preferably, it should stay intact.
If your dog is a chewer and you catch him messing with the tray or the grass, make sure to offer him something else instead, like a chew toy or a dental treat.
How Long Does DoggieLawn Last?
One grass pad should last for about 2-3 weeks, depending on your dog's size and how often it's used. A little watering will certainly help the grass last longer though.
For this reason, it's also very important that you open your grass pads immediately rather than leaving them in a corner of your house somewhere.
Remember – this is fresh green grass, without any chemicals or fertilizers, so it will naturally go bad after a couple of weeks. For optimal results, keep the pad inside the tray and out of the rain.
PROS
Real hydroponic grass
Grown in California
Easy cleanup (disposable gloves included)
Free potty training consult available
Ships in different sizes
No chemicals or fertilizers
Compare Prices
---
Fresh Patch Disposable Dog Potty Review
SECOND BEST
The Fresh Patch grass pad was firstly introduced on ABC's hit television show, Shark Tank, which features a number of potential genius inventions. It's a real living grass that grows on a hydroponic mat without soil.
This grass pad naturally attracts your dog, just as a regular lawn would do, and its roots are helpful for absorbing urine, as well as eliminating odors and keeping messes to a minimum.
If you also have a cat, this grass pad can replace her litter box in a pinch!
Again, don't forget to use a scooper to promptly remove any solid waste as your dog can end up stepping in it and tracking it around the entire house.
In case you're having problems housebreaking your dog, you can use the company's free dog training consultants for professional guidance.
Fresh Patch Size
The standard pad measures 24'' x 16'', so it doesn't take up too much space, and it's designed to accommodate dogs under 15 lbs.
If you like, there's also a mini pad for tiny pets up to 8 lbs, but in case you need something in a larger size, you can find a large and an XL pad.
Here too, the grass ships in cardboard that's sturdy and won't leak or leave dirt behind. Once you're done, simply throw it away and forget about it.
Just know that you'll need to purchase a separate plastic tray in order to hold the biggest Fresh Patch pad.
How Long Does Fresh Patch Last?
Similar to the DoggieLawn, one grass pad should last for two weeks or even more, depending upon your dog's weight and how much he uses it.
You can water the grass occasionally to keep it green, but if you keep it outside the house, make sure to cover it or bring it inside when it rains.
PROS
Real living grass
Made in the USA
Easy cleanup
Access to free potty training consultants
Ships in different sizes
CONS
Same size as DoggieLawn, for a slightly higher price
---
Patio Pet Life Farm Fresh Pet Grass Review
RUNNER-UP
The Farm Fresh grass pad is a perfect designated spot for your dog to relieve himself. It contains real, soilless grass that's grown hydroponically in Southern California.
Dogs are naturally wired to be drawn towards real grass for doing their business and this pad is no different. Like any grass, it's also very effective in absorbing liquids and odors.
On top of that, it requires minimal training, and for the most part, you should be able to potty train your dog in less than 3 weeks. Here are a few tips from Patio Pet Life's website.
As an added bonus, every delivery comes with a roll of bags to bag up your dog's poop, disposable gloves, as well as a tasty, all-natural dog treat.
Farm Fresh Size
In regards to size, you can purchase a pad that's as small as 24″ x 24″, which is actually bigger than the DoggieLawn and Fresh Patch pads we reviewed.
This size is suitable for dogs who weigh 25 lbs or less, while larger breeds will require the larger pad, which measures 24″ x 48″.
That said, while the small grass potty comes inside a disposable cardbox, the large one isn't.
Luckily, each grass pad comes with the option of purchasing a tray that fits accordingly. This not only makes transport easier, but it also helps to lock in liquids and makes for a far easier cleanup.
The plastic trays are lightweight, UV protected and allow the pad to be lifted off of the floor.
How Long Does Farm Fresh Last?
Generally speaking, if you take proper care of it and lightly water it, one grass pad should last up to two weeks, possibly more.
It's important to note that this pet grass is sensitive to temperature changes. If you leave it outside during particularly cold periods, it can fall victim to frost and wither.
PROS
All-natural grass
Made in California
Easy cleanup
Large pad is also available
Free natural treat in every box
Pesticide-free
CONS
Grass is a bit sensitive to weather conditions
---
When Should You Use a Potty Pad for Your Dog?
When Your Puppy Is Not Vaccinated: As much as you want to show off your new puppy to the world, it's very important that he gets all his shots before you expose him to the outside.
The reality is that he will need to stay inside for a little while. Once you decide that you no longer want your dog to eliminate in the house, simply take him out several times a day and reduce the use of potty pads.
When Your Dog Is Old or Sick: Older dogs and dogs with bladder issues by definition can't hold their needs for a long time. Some dogs also suffer from arthritis, which means that taking them outside frequently can be hard on their joints.
Likewise, dogs who have just had surgery may have trouble with stairs and frequent walks, as they need time to rest and recover.
Of course, it could also be that you're not physically able to take your dog outside.
When You Cannot Safely Go Outside: Whether it's a hot summer day and the pavement is sizzling, the middle of a raging snowstorm or simply late at night, sometimes you can't take your dog outside without risking his safety and yours.
When You Have a Busy Schedule: If your full-time job takes up most of the time in your day or you're occupied with other things, taking your dog for walks frequently can be a problem.
In that case, you should also consider hiring a dog walker to help you out every now and then.
When You Live in a Tall Building: People who live on higher floors can't always take their dogs outside in time for a bathroom break. To be honest, some dogs simply can't 'hold it' for too long.
That includes puppies, elderly and ill dogs, as well as toy dogs with small bladders.
What Are the Benefits of Real Grass Pads?
View this post on Instagram
Since it's a natural toilet and there's actual soil beneath it, a real grass pad can absorb urine and lock nasty odors inside, leaving behind only the fresh smell of earthy, wet grass that attracts dogs.
Also, some dogs can be quite particular when it comes to choosing their potty spot. A real grass pad looks and smells just like a traditional grass, so your dog should instinctively use it to relieve himself.
Not less importantly, it's good for the environment. Not only because you need to replace it every two weeks, but also because it can be composted instead of thrown away.
Can't I Just Use Sod?
Compared to real grass pads, regular sod sits on loose soil. This means that replacing it can be a big mess, and you may even find a few bugs inside.
Additionally, some people claim that sod doesn't last nearly as long as the DoggieLawn and Fresh Patch, and turns brown in a matter of days.
Granted, it was not mentioned as to whether or not the sod patches were watered daily.
What About Artificial Grass Pads?
Synthetic grass pads usually come as a three-piece system, including a collection tray at the bottom for handling the urine that drains through the artificial grass mat.
Sometimes, some of the urine will stay on top, which means your dog will walk on wet grass.
These products also don't come with a built-in attractant, and even when they do, it's still not as good as the real thing. In addition, you have to empty the collection tray every day and wash it with soap and water.
Grass pads require almost no maintenance, all you need to do is simply throw out the grass or the grass box and open up a new one.
Bottom Line
Grass pads are the best way to mimic the dog's natural potty environment.
DoggieLawn and Fresh Patch are both popular real grass pads and they each offer free training support, which many dog owners are pleased with.
Fresh Patch is a bit pricier for the size, however.
Whatever you choose, always check if the grass looks new and that it isn't deteriorating in color to make sure you're getting your money's worth.